Active participation of BSUT in promoting export potential


Published: Tuesday, 21 January 2020 16:13
The Belarusian State University of Transport took part in the Second China International Import Expo 2019 Exhibition, which was held on November 5–10, 2019 in Shanghai (China).
The initiative to hold an international exhibition of imported goods in May 2017 was made by President Xi Jinping at the One Belt and One Way International Cooperation Forum in Beijing.
In 2019, the exhibition was held for the second time, the organizers were the Ministry of Commerce of the PRC and the People's Government of Shanghai. The opening ceremony was attended by President Xi Jinping, President of France Emanuel Macron, members of the government of dozens of countries. The area on which the exhibition was deployed amounted to almost 1.5 million square meters.
The Chinese authorities attach great importance to the implementation of import EXPO, taking into account the country's implementation of a policy to increase the volume of imports of foreign goods and services. This is the first exhibition of national importance in the world on the topic of import, the purpose of which is to create comfortable conditions for all countries, especially for participants in the One Belt and One Way initiative.
The Belarusian exposition was presented at the exhibition for the second time in a row. BSUT was also represented among domestic exhibitors in the sections of scientific developments, as well as transport and logistics services.
BSUT's participation in such a large-scale event was marked by a Diploma signed by Ambassador Extraordinary and Plenipotentiary of the Republic of Belarus to the People's Republic of China K.V. Rudy and Chairman of the Belarusian Chamber of Commerce and Industry V.E. Ulakhovich.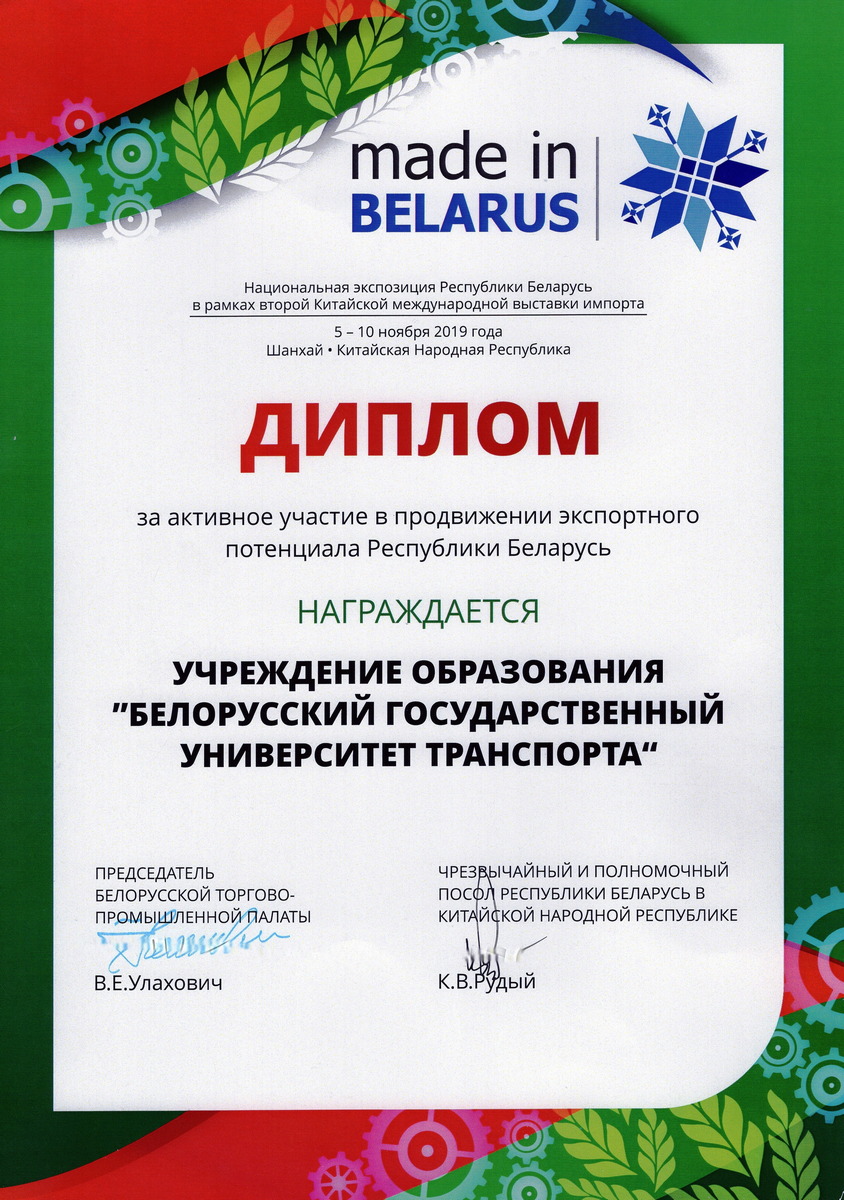 Нашли ошибку? Выделите ее и нажмите Ctrl-Enter